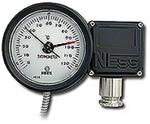 [ Feature ]
This product (It) can be either liquid or gas filled. As it is gearless, it can withstand high vibration with high performance.
Comparing the products made by other manufacturer, the sensor part can be reduced to be installed to various conditions.
We have pressure- resistant explosion proof temperature switch with regular dial size (φ100mm/ d2G4) and smaller size (φ75mm/ hydrogen explosion proof).
It is suitable for the process control or Alarm & Trip with Microswitch motion.※1
※1:Capillary Extension can be arranged up to 50m for Liquid Filled Type and 30m for Gas filled.

[ Product Information ]
Weather Proof (IP66) / (w/Junction Box)
Case: Screw Cover Type / Screw Fix Type for pressure-resistant explosion proof
Dial: (*75)/ 100/ *150) mm  / 端子箱付きは屋外仕様可
with Temperature Compensation and the microswitch (1or 2 set point)
※Certain condition may be applied.